Most of you know of soup recipes called "Everything But the Kitchen Sink," but here's one that I've created called, Everything-But-The-Guilt. This is literally a fully balanced meal in a bowl, you have your veggies, protein, complex carbohydrates, and a ton of vitamins and nutrients. It's a combination of Tosca Reno's
Meal-In-A-Bowl Soup
and my own concoction. The recipe in her book serves 10, and I am a single girl generally cooking for myself, so I cut the recipe in half, and rather than wasting half a cabbage I replaced the cabbage with mushrooms--not exactly the usual replacement for cabbage, but I love mushrooms and wanted the added protein. I also changed a few other things for personal preference (for example, I didn't add any garlic because when I sweat while working out tomorrow, I'll smell like a pizzeria).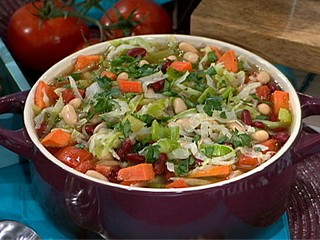 Ingredients:
1/8 cup of extra virgin olive oil
1/2 bunch of celery, coarsely chopped
1 large onion, peeled and coarsely chopped
1.5 fat carrots, peeled and coarsely chopped
1/2 cup chopped baby bella mushrooms
2 fist-sized yellow potatoes, peeled and coarsely chopped
1 15oz can white kidney beans, rinsed and drained
4 plum tomatoes, coarsely chopped
6 cups/3L low-sodium vegetable stock
1/2 tbsp sea salt
1/2 tbsp black pepper (less if you're a wimp like me and don't like spicy food)
1 tbsp dried oregano
1 tbsp dried basil
Cooking Directions:
In a large Dutch oven, heat olive oil over medium-high flame.
Add celery, onions, mushrooms, carrots, and parsnips (since I'm adding the mushrooms here, you may want to add some more olive oil--but this will add to the fat content). Saute until onions are soft. Add the remaining ingredients and bring to a boil. Once boiling, reduce heat and let simmer for about a half hour or until vegetables are soft.
Tosca's original recipe has 395 calories per serving, 21 grams of protein (mine will have more, thanks to the mushrooms), 66 grams of carbs, 8 grams of fat, 1 gram of saturated fat, 20 grams of fiber, 429mg of sodium, 0 cholesterol, and 11 grams of sugar.
Serves 5, serving size is 2 cups. Remember the soup IS the meal--not an appetizer. If you're still hungry, have a small, fresh fruit-salad.